Leave time behind
SHEILA KUMAR
In Srirangapatna, the evidence of grandeur and past glory is everywhere.
---
---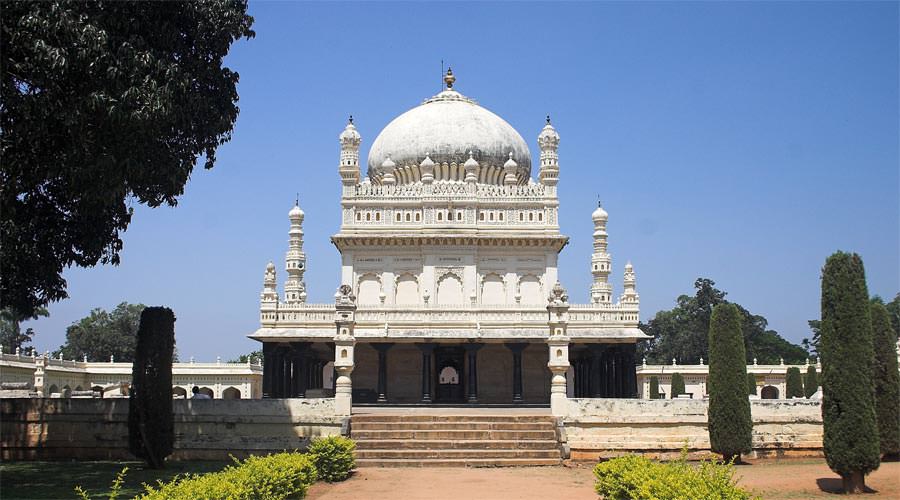 FIT FOR THE KINGS: The Gumbaz.
TOURISTS invariably make Srirangapatna a transit stop en route to the Ranganathittu bird sanctuary or as an early stop before Mysore, just 13 km away. That's good because it enables this quiet little town to retain its air of secluded privacy. But it's also sad because Srirangapatna is a charming place and deserves its own place in the travel guides.
It's the Cauvery that gives the place its character. That, and the feeling that Srirangapatna seems caught in a time warp. A kite perches on the ruins of a palace; a dog scavenges near a fallen turret and one expects an achkan-clad aristo astride his horse to gallop past.
This island town on the Bangalore-Mysore highway obtains its name from the 1,000-year-old temple of Lord Sriranganatha. Hyder Ali made it a place of some political importance and Tipu Sultan ruled the kingdom of Mysore from Srirangapatna in the 18th Century. Three battles were fought in the town, Tipu pitting all his strength and strategy against British. After this great ruler met his end, it was a period of Raj for the town, which became Seringapatnam.
Today, Srirangapatna is a quiet, green place, not quite hamlet, not quite town; everywhere, you sense the presence of the holy river. The accommodation facilities are decent if not fancy; all you need is transport to get around and the determination to relax, to sit by the Cauvery musing on life, to soak in the rich ambience of the place.
I decide to pay my respects to Lord Ranganatha first. Vishnu is enshrined as Ranganatha in the magnificent Sriranganathaswamy temple, which was built by a Ganga chieftain in 894 A.D. Thereafter, every succeeding ruler and kingdom have done their bit to maintain the temple. With the largest reclining Vishnu in the State, it is situated inside an old fortress. Hugedevapalas, towering flagpoles, granite colonnades, intricately workedgopuram, a monolith garuda, all make for jaw-dropping grandeur.
On one side of the Ranganathaswamy temple complex is Col. Bailey's Dungeons with a huge cannon in the middle. These brick and mortar vaults are a throwback to one's childhood nightmares. The prisoners were all British military officers, chained to stone slats on the walls and left to suffer.
A visit to the
sangam
follows. Srirangapatna is one of the
Pancharanga kshetras
in the course of the river Cauvery and is also known as Aadi Rangam. The Cauvery and its two tributaries, the Lokapavani and the Paschima Vahini, meet here and the sangam is serenity personified. A
nandi
on a rock, tern, fish jumping above the water's surface, and at sunset, the glittering waters flowing inexorably away, the trees on both banks bending branches low as if in obeisance... I have to tear myself away from the place when it grows dark.
The next morning, my first port of call is Tipu's summer palace. The Indo-Saracenic palace, called Dariya Daulat Bagh, looks deceptively plain from the exterior but is opulent inside, with polished teak pillars, frescoes (on one wall is a lovely mural of flowers in gilded vases), recessed bays and canopied balconies. There is an excellent museum full of old photographs, medals, costumes, sketches, coins, arms and portraits, including some excellent aquatints done by British artists.
My next stop is also at a palace but mere ruins remain of this one, Tipu's Lal Mahal Palace. It used to have a regal audience hall, zenana, library and an excellent underground drainage system with pipes. Once you are at the spot, though, it doesn't take much imagination to summon forth scenes of past grandeur; of brilliant chandeliers, of men in brocade and women in dazzling gems.
If the Lal Mahal Palace is just rubble, the Masjid Eksa stands tall and proud, the spires of this Jamia, shooting up into the sky. It is a classic example of Hindu-Islamic architecture with ivory inlay and jaali work on stone.
Another regal structure is the Gumbaz. This "House of Sleep" holds the cenotaphs of Hyder Ali, his wife Fakr-un-Nisa and of Tipu Sultan himself, as well as his sons. Polished black granite pillars and interiors painted with tiger stripes, pay tribute to the reign of Hyder and Tipu.
http://www.hindu.com/mag/2006/03/26/stories/2006032600190800.htm