TOI Oped, 8 Dec 1995
Siachen's meter keeps on ticking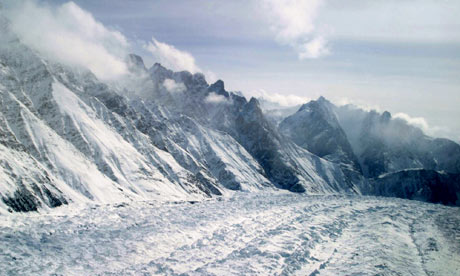 It's another cold grey day. The weather has packed up for over 20 days now, and it doesn't seem as if the weak sun will break through today. His fibreglass hut (FGH) is comfortingly warm and he doesn't want to get out of his heavy-duty sleeping bag. But get up he must, another day on the glacier beckons.
The Siberian crane is suspicious, cocking its head in an aggressive manner, refusing all morsels offered it. The men are eager to be entertained by the bird which had fallen out of the sky while on its migratory flight, landing near the camp. But the crane is in pain and there is talk of evacuating it down to the plains.
The blizzard is of medium strength, visibility is nil and the unit doctor is lost. Refusing to panic, he stops his snow scooter, covers it with parachute cloth, lest the snow buries the vehicle, and decides to backtrack. The fast-falling snow covers his tracks almost as soon as he makes them and his gloved fingers are slowly going numb. It is an agonizing hour before he hears the first shouts of the search party.
The men are all lined up behind the table, in position for a historic snapshot. On the table is heaped a mound of potatoes, onions, brinjals, carrots, apples, bananas all fresh. After weeks of eating tinned food, it's time for a celebration.
These are some of the faces of Siachen, the world's highest glacier, tucked between the Karokaram and Soltoro mountain ranges. A hellish stretch of ice, it is not fit for any kind of habitation but, nevertheless, home to our troops, who serve stints of three to four months there, fighting not just the enemy, but the hostile weather as well.
It costs the government an astounding Rs. 3 crore a day to keep the troops in a state of preparedness, at Siachen. Statistics reveal that between January 1990 and June 1995, 156 men have died and 5,304 have suffered blizzard or bullet-related injuries. With oxygen in short supply, it takes considerable effort to walk at an even pace, leave alone fight; month after month, men succumb to both high altitude sickness and the firepower rained on the posts by the Pakistanis, who are just a kilometer away.
The weather front is no less bleak. At nearly 20,000 feet above sea level, the glacier takes a severe toll on the men stationed there. Normal temperatures rise to just five degrees in summer and dips to minus 20 degrees after September. Food, tinned or fresh, and dak, is air-dropped at intervals, snow is melted for water, there is a constant alert for avalanches.
"The morale of both troops and officers is hearteningly high," says an army doctor just back from the glacier. "It's all about developing a practical attitude. In fact, when men fall seriously ill and have to be evacuated by chopper to Srinagar, they are disconsolate that they have 'let the others down'. I have not seen this spirit even in a war."
However, a war it is. At Siachen, death by bullets occurs with the same frequency as death due to cold and luck plays an inordinately important role in this terrain.
Siachen leaves an indelible impression on those who survive the stint. Stories abound about crevices with fathomless depths that suddenly yawn wide, of a friend's slow death by gangrene, of men slipping down ice mountains even as they are training at Base Camp for the rigours of the glacier posting. There are as many cases of psychological depression as swollen extremities; sometimes, all it takes is a backlog of letters from home to lift their spirits.
The officers refuse to speculate on how long the Siachen standoff will continue. Says a major, talking straight as most army men are wont to do: "We have a job to do. Discussing the politics of the situation isn't going to lessen either the sleet or the artillery fire." Embarrassed as they are by such effusions, these are, indeed, indomitably brave men stationed at the last frontier of courage.